Disclaimer: This post contains affiliate links. If you click through and make a purchase, I may receive a small commission (at no additional cost to you). This helps support and run my blog. I only recommend products I personally use and love. Thank you for your support.
Page is a small town adjacently located to the Navajo Nation in northern Arizona. The small town has a population of roughly 7,300 and before the days of Instagram, it was barely on the radar. Today, it's hard not to be familiar with its famous sights. Page's beautiful natural attractions are some of the most photographed places in the world.
Page, AZ has become a hub of sorts for the southwest. It's the perfect road trip destination and makes the perfect base camp for your adventures. Horseshoe Bend, Antelope Canyon, and Lake Powell are all just a short drive away. Continue reading to discover the top things to do in Page, AZ.
How to Get to Page, AZ
Page is located in Northern Arizona near the Utah border and is best done as part of a southwest road trip. If you don't live within driving distance, you will need to fly into a nearby airport and rent a car. Page is a relatively easy place to explore and its most popular sights are fairly close to each other, but a car is absolutely necessary to navigate the area.
The closest major airport is Phoenix Sky Harbor International Airport (PHX). PHX is about 277 mi (445 km) from Page and the drive takes about 4 hrs and 30 min. McCarran International Airport (LAS) in Las Vegas, Nevada is also a great option. McCarren International is roughly the same distance as Phoenix. Either route makes a great road trip with many beautiful stops and roadside attractions along the way. Make sure to include a stop at the Grand Canyon.
Best Time to Visit Page, AZ
Page, Arizona can be visited anytime throughout the year; however, temperatures vary drastically throughout the months. The best months to visit are June, September, and October. Temperatures during these months are mild and there is less of a chance of rain. Early spring can be a great option as well. Just be aware that if it rains then flash flooding in Antelope Canyon may occur and result in your tour being canceled.
Summers see soaring temperatures and crowds. Temperatures are often over 100°F (37.8°C). If activities are planned during the early morning and evening then a visit during this time is doable though. Winter temperatures in Page drop to about 45°F (7°C) during the day and can drop to 30°F (-1°C) at night. The area can see some snowfall during this time.
6 Incredible Things to Do in Page, AZ:
1. Watch the Sunrise at Horseshoe Bend
Thanks to social media, Horseshoe Bend has become one of the most recognizable locations in Page. It has quickly become a favorite of photographers and one of the top things to do in Page, AZ. Horseshoe Bend is literally a bend in the Colorado River that forms a horseshoe shape. It's located about four miles southwest of town. The overlook at Horseshoe Bend is 4,200 ft (1,280 m) above sea level and the Colorado River sits at 3,200 ft (975 m) feet above sea level. Thus, creating a 1,000 ft (304 m) drop that provides magnificent views of the canyon. It is even more jaw-droppingly gorgeous in person.
Horseshoe Bend can get busy but is worth battling the crowds. The least busy time is sunrise. The parking lot is located off of US Highway 89 and costs $10 upon entry. If the lot is full, you may be guided to an off-site lot and shuttled to the trailhead. The hike is 1.5 mi (2.4 km) round trip. It's a fairly easy hike with a few steep areas and areas of deep sand. There is a shelter providing shade and a place to rest near the halfway point.
When choosing a time of day to visit, definitely take the weather into account. Mid-day is great for capturing the beautiful warm hues of the sandstone but it is only recommended during the milder months of the year. Bring water, sunscreen, and avoid going during the hottest time of day during the summer months. Don't underestimate how cold it can get either. The weather can change very quickly. I was able to get some beautiful shots right before a sudden downpour of rain and hail during my trip in the middle of May.
2. Photograph Antelope Canyon
Antelope Canyon is a stunning slot canyon located just east of Page. You've most likely seen photos of it before. It's known for its wave-like walls and beautiful light beams. It's also one of my favorite things to do in Page. The canyon is the result of millions of years of erosion. Water, primarily from flash flooding, has slowly carved pathways through the soft sandstone and created the formations we see today. Antelope Canyon is divided into two separate sections, Upper and Lower Antelope Canyon.
The canyon is located on Navajo land and a tour by a licensed operator is required to visit. There are different tour operators for the upper and lower canyon and each requires a separate booking. Both canyons are extremely popular and can get very crowded. I recommend making a reservation far in advance. If crowds aren't your thing, I suggest visiting the less popular, but still beautiful, Canyon X instead.
Lower Antelope Canyon
Lower Antelope is the canyon you see most often in photos on Instagram. This is because it is the easiest of the two canyons to photograph and amazing photos are possible even on an iPhone. Lower Antelope is also a bit more fun to explore; however, it is not for someone with mobility issues. Parts of the canyon are very narrow and it's necessary to climb a few flights of stairs to enter and exit the canyon.
Lower Antelope Canyon is often more crowded than Upper Antelope, but tours run more frequently and it's easier to secure a reservation. An early morning tour is ideal if you wish to avoid the crowds as much as possible. Optimal lighting for Lower Antelope is late morning to early afternoon but unless you are a professional photographer, any time is a good time to visit this canyon.
I booked a tour with Ken's Tours at 8 am and it was perfect. Ken's Tours offers two types of tours: General and Deluxe. The general tour costs $50 and has a maximum group size of 10. The deluxe costs $90 and has a maximum group size of 4. I chose the deluxe tour and in my opinion, it was worth the extra money. Since our group was smaller, our guide was able to spend more time with us and we learned a lot about the canyon. This tour also moved at a slower pace so we had more photo opportunities.
Upper Antelope Canyon
Upper Antelope Canyon is located on ground level. There are no stairs to climb and the pathways aren't as narrow as those of Lower Antelope. However, it does involve a one-way loop that you must be able to complete. The short hike is .75 mi (1,200 m).
Upper Antelope is somewhat of a darker canyon and can be more of a challenge to photograph with a point-and-shoot. However, it is the favorite canyon for most photographers. A visit during mid-day is necessary to capture the canyon's incredible light beams and falling sands.
Tours for Upper Antelope Canyon can be booked through Antelope Canyon Tours. Tours range in price from $67-85. Unfortunately, they no longer offer a photography tour, and tripods are not allowed in the canyon.
3. Kayak Around Lake Powell
Rent a Kayak or a boat and explore the beautiful Lake Powell. Lake Powell is one of the many things worth visiting at the Glen Canyon National Recreation Area. The large, man-made lake covers 2,000 mi (3,218 km) of shoreline and stretches up into southern Utah. There are many water activities to partake in, including water skiing, swimming, and fishing. There are even houseboats for rent if you wish to experience an evening under the stars.
4. Take in the Views at Glen Canyon Dam
Glen Canyon Dam is a 710 ft (216 m) dam that forms Lake Powell and is one of the largest man-made reservoirs in the United States. It was constructed between 1956 and 1966. The dam helps ensure equal distribution of water between the Upper Colorado Basin and the Lower Basin. It's also a source of hydroelectricity, producing over four billion kilowatts per year. The best way to view the dam is by visiting the Glen Canyon Overlook.
Glen Canyon Overlook can be a quick stop and one of the easiest things to do in Page, AZ. The walk from the parking lot to the viewpoint is very short and I would allow about 30 minutes for a visit. It's located close to town, off of Scenic View Drive. After turning onto Scenic View Drive, you will see signs for the overlook. There are stairs carved into the rock that lead down to a couple of great viewpoints. A sunset visit is perfect.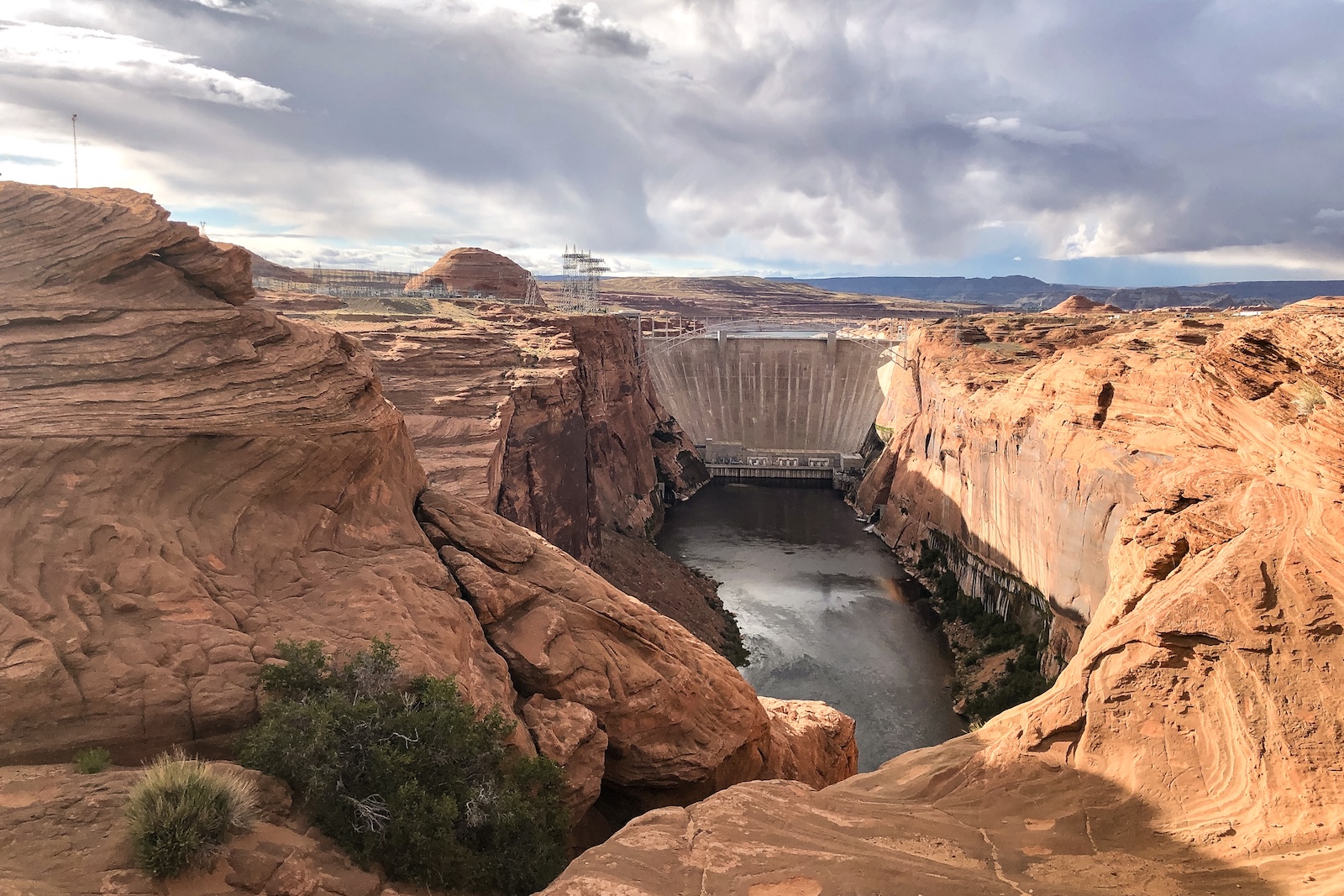 5. Visit Grand Staircase Escalante National Monument
Grand Staircase Escalante National Monument covers nearly one million acres (1,562 km) of rugged landscape. Interesting rock formations cover the land and fossils from prehistoric times have been found. You'll find sandstone cliffs, slot canyons, and abandoned old Western movie sets. Grand Staircase Escalante National Monument is located in southern Utah and is about 28 mi or (44 km) from Page.
6. Take a day trip to Monument Valley
Monument Valley Tribal Park is located on the Arizona and Utah border and is a little over 2 hours from Page. It's an incredible place and makes the perfect day trip. John Ford, a director, put the area on the map when he featured it in many of his Western films during the 1930s. These films made Monument Valley an iconic symbol of the American Southwest.
The land, belonging to the Navajo Nation, features a 17 mi (27 km) scenic driving loop. The loop winds past majestic buttes, red sandstone cliffs, and views for miles. It's one of the most majestic places on the planet. If you would like to venture off the paved road and do some hiking in the area, a tour is necessary and will need to be booked through an operator that is affiliated with the Navajo Nation.
Where to Stay in Page, AZ
Lodging isn't super plentiful in Page, AZ. There are a few large hotel/motel chains to choose from as well as some Airbnb listings.
Courtyard by Marriott Page at Lake Powell
Courtyard by Marriott is a large, fairly new hotel. It has clean rooms, a pool, and a restaurant on site. It's also less than a mile from the Glen Canyon Dam Overlook.
La Quinta Inn & Suites by Wyndham
La Quinta Inn & Suites is part of a large hotel chain. The location in Page is newly built, modern, and one of the nicest La Quinta hotels that I've seen. Your stay includes a free breakfast which is nice because there aren't a lot of early-morning restaurant options in town. The hotel also allows dogs and is perfect if you're traveling with your furry friend.
Horseshoe Bend Retreat with Fire Pit, Patio & Mtn Views
This property is perfect if traveling with family or a group. The home is 3 bedrooms/ 2 bathrooms and can sleep 6. It has beautiful views, a fire pit, and is conveniently located to all of Page's best attractions.
Have you visited Page? What are your favorite things to do in Page, AZ? If you've enjoyed this post, please leave a comment or share using the social media buttons below. Is Monument Valley on your road trip itinerary? If so, continue to my post, "Monument Valley Scenic Drive: The Ultimate Guide".